Inovasi Organisasi Bisnis: "Belajar dari Inovasi Harian Jogja Ditengah Gempuran Teknologi"
sunardi sunardi

Universitas Islam Kalimantan

fika fibriyanita

Universitas Islam Kalimantan
Abstract
This paper questioned the innovations by Harian Jogja in order to survive in the onslaught of technology advances. The research method in this paper is qualitative, and the result shows that Harian Jogja makes three innovations. First, innovation in the cover design, second,innovation in the content, and the third, they makes an innovation by created the anti malaria newspaper. The success of innovation in Harian Jogja influenced by cultural factors of organization, technical and learning organization.
References
Birkinshaw, Julian, Bouquet, Cyril, Barsoux. J-L. 2011. The 5 Myths of Innovation. Sloan Management Review. Rev 52. No. 2 Wint 2011 p. 43-50.
Candra, Anisa Cita. 2016. Studi Komparasi Proses Inovasi (Proses Inovasi RRI Yogyakarta dan Radio Swaragama). Skripsi. Universitas Gadjah Mada. Tidak Diterbitkan
Dyer. Jeffrey H. dkk. 2009. The Innovator's Dna. Harvard Business Review Notice of Use Restrictions.
Garvin, David A. Edmondson, Amy C. and Gino, Francesca. 2008. Is Yours a Learning Organization? Harvard Business Review.
Hesselbein, dkk. 2001. Leading for Innovation and Organizing for Results. Jossey-Bass books. San Francisco
Jaskyte, Kristina. 2011. Predictor of Administrative and Technological Innovations in Nonprofit Organizations. Public Administration Review.
Kriska, Mesalin. 2013. Kontribusi Surat Kabar Local DIY Dalam Penyebaran Informasi Inovasi Pertanian. ----- Universitas Gadjah Mada. Tidak diterbitkan
Salge, Torsyen Olier & Vera, Antonio .2012. Benefit Ting from Public Sector Innovatio: The Moderating Role of Customer and Learning Orientation. Public Administration Review. Vol. 72, Iss. 4, pp. 550-560.
Saputri, marheni eka. 2011. Analisis Inovasi Nilai di Kedai Digital Yogyakarta. Thesis. Universitas Gadjah Mada. Tidak diterbitkan.
Vigoda, Eran, Gadot, dkk. 2005. Public Sector Innovation for The Managerial and The Post- Managerial Era: Promisesa and Realities A Globalizing Public Administration.International Public Management Journal. 8 (1). 2005. p. 57-81.
Yulianarko, rangga. 2013. Respon Petani Terhadap Berita Inovasi Pertanian Pada Media Televise di Kecamatan Kalasan Kabupaten Sleman. ------ Tesis. Universitas Gadjah Mada. Tidak diterbitkan.
Website
http://www.nielsen.com/id/en/press-room/2014/nielsen-konsumsi-media-lebih tinggi-di-luar-jawa.html, Diakses pada Kamis, 8 Juni 2016. Pukul 12.44 di Ruang Penerbitan berkala Perpus UGM LT.1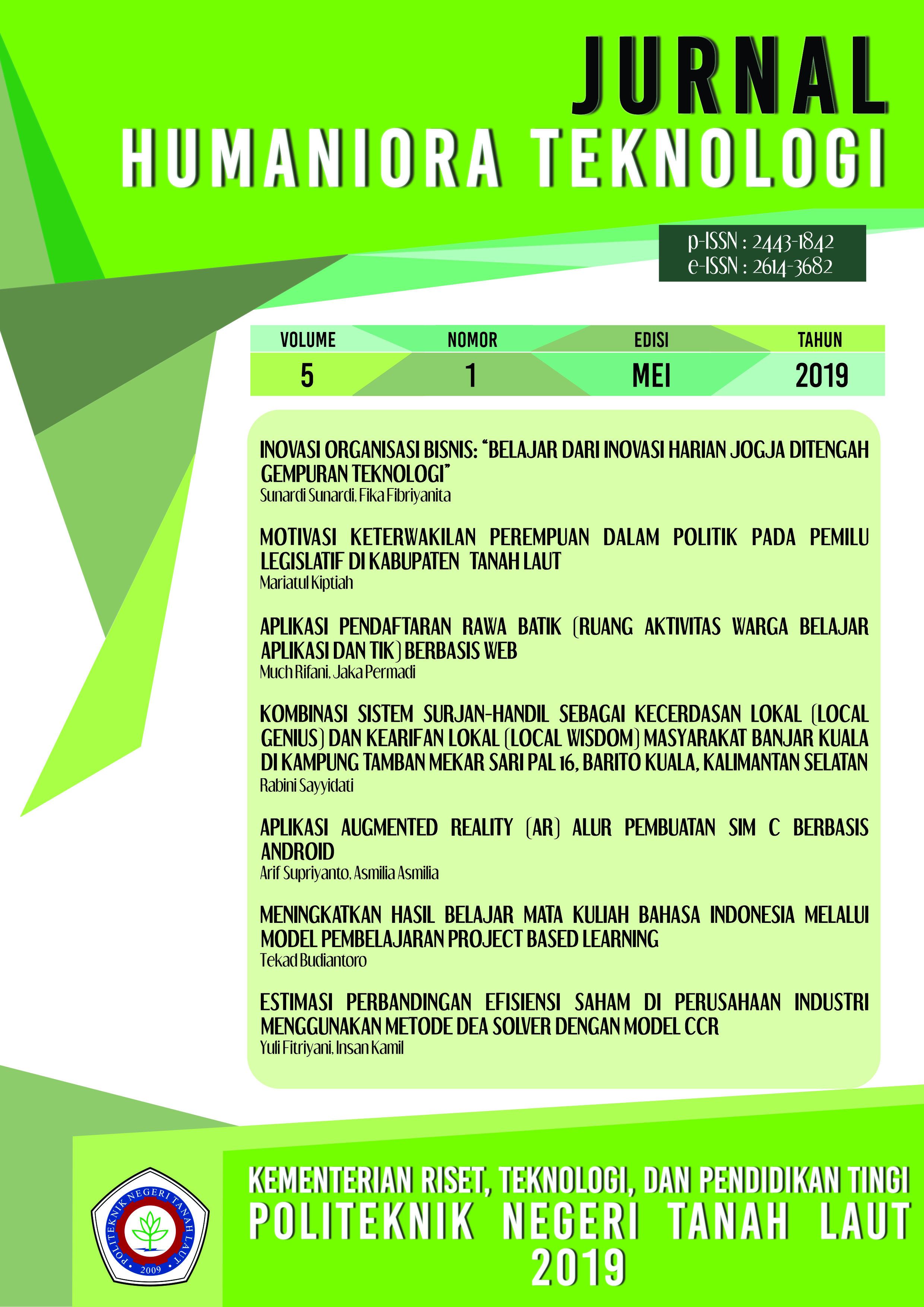 How to Cite
sunardi, sunardi, & fibriyanita, fika. (2019). Inovasi Organisasi Bisnis: "Belajar dari Inovasi Harian Jogja Ditengah Gempuran Teknologi". Jurnal Humaniora Teknologi, 5(1), 1-12. https://doi.org/10.34128/jht.v5i1.40